See on Scoop.it – :: Science Innovation :: Research News ::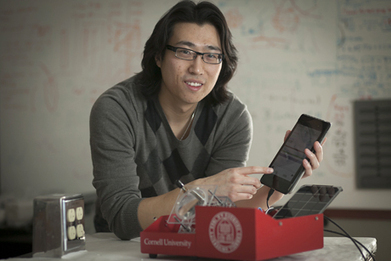 Kaposi's sarcoma is a type of cancer linked to AIDS, and remains commonplace across Africa due to a lack of basic medical care and simple lab tests. Thankfully, Cornell University engineers have created a solar-powered smartphone accessory that can detect the problem, and also be adapted for other ailments such as E. coli and hepatitis.
The device consists of a smartphone, an app, a lens and a tiny round chip, which are used to carry out a chemical test. Gold nanoparticles are combined with slices of DNA that bind to Kaposi's DNA sequences in a solution, which is then added to a microfluidic chip. In the presence of viral DNA, particles clump together and limit how much light can travel through the solution, which also causes a color change.
An optical sensor hooked up to the smartphone via a micro-USB port detects the amount of color change to indicate the severity of infection. The solution is bright red when there is little or no Kaposi's virus present, whereas it turns purple when the concentrations of viral DNA are higher.
A fully-charged phone battery supplies enough power for the whole system to run for up to 70 hours, with each test taking about half an hour to complete. Compared to traditional methods, the solar-powered device uses 100 times less energy, and is expected to cost less than $500.
See on www.news.cornell.edu