See on Scoop.it – :: Science Innovation :: Research News ::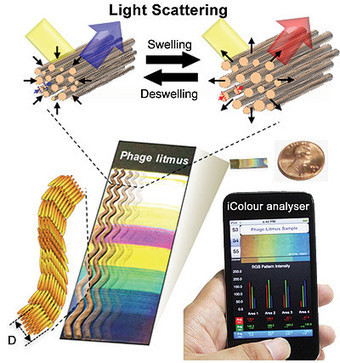 Some may think of turkeys as good for just lunch meat and holiday meals, but bioengineers at UC Berkeley saw inspiration in the big birds for a new type of biosensor that changes color when exposed to chemical vapors. This feature makes the sensors valuable detectors of toxins or airborne pathogens.
The researchers say that spacing between the collagen fibers changes when the blood vessels swell or contract, depending upon whether the bird is excited or angry. The amount of swelling changes the way light waves are scattered and, in turn, alters the colors we see on the bird's head. The researchers created a mobile app, the iColour Analyser, to show that a smartphone photo of the sensor's color bands could be used to help identify chemicals of interest, such as vapor of the explosive TNT.
See on newscenter.berkeley.edu