See on Scoop.it – :: Science Innovation :: Research News ::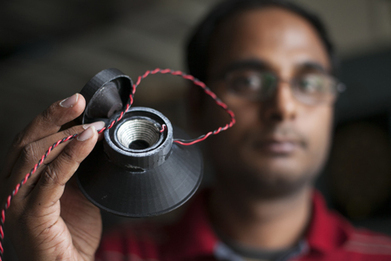 Cornell researchers have 3-D printed a working loudspeaker, seamlessly integrating the plastic, conductive and magnetic parts, and ready for use almost as soon as it comes out of the printer.
It's an achievement that 3-D printing evangelists feel will soon be the norm; rather than assembling consumer products from parts and components, complete functioning products could be fabricated at once, on demand.
It's not the first time a consumer electronic device was printed in Lipson's lab. Back in 2009, Malone and former lab member Matthew Alonso printed a working replica of the Vail Register, the famous antique telegraph receiver and recorder that Samuel Morse and Alfred Vail used to send the first Morse code telegraph in 1844.
See on www.news.cornell.edu