See on Scoop.it – :: Science Innovation :: Research News ::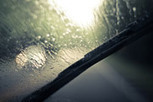 Floods regularly cause serious damage. But in Germany there are not enough rain measuring stations capable of forecasting the precise time and amount of water that is to be expected. Improved nationwide recording of precipitation could ensure more precise forecasting. The project RainCars at Leibniz Universität Hannover is taking the following approach: it uses cars as mobile measuring stations with windscreen wipers as rain sensors. The German Research Foundation (DFG) is funding the project RainCars for an initial period of two years.
The central idea behind the project: relatively imprecise measurements in many places are better than exact measurements in very few. The position of the cars and the frequency of the wipers are measured and compared with data from permanently installed weather stations. The combination with the precise data makes it possible to establish quickly and precisely what the amount of water is and at what location. The cars also compare data with each other, so that at the end of the measurement process, data which is as precise as possible and evenly distributed will be available.
See on www.uni-hannover.de