See on Scoop.it – :: Science Innovation :: Research News ::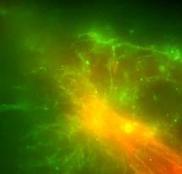 Tiny self-assembling transport networks, powered by nano-scale motors and controlled by DNA, have been developed by scientists at Oxford University and Warwick University. — The University of Oxford and the University of Warwick have developed DNA-controlled micro transport networks that are capable of self assembly and disassembly if required.
Tracks in the network, which span tens of micrometers in length, all come from a central hub in a pattern the researchers behind the technology have likened to the spokes of a bicycle wheel. The system was inspired by melanophores, the subunit within fish cells that controls their pigments and can allow them to change colour.
See on www.ox.ac.uk